Torn Achilles Tendon Non Surgical Treatment
Overview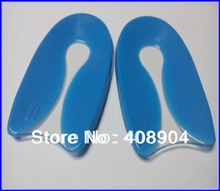 About two thirds of all Achilles tendon ruptures occur during sports. Total ruptures are most common in sports with stop-and-go movements, especially ball sports. The majority of patients suffered a ruptured Achilles tendon when stopping suddenly during a fast vigorous movement. Usually the Achilles tendon tears about 5 cm before it inserts into the heel bone. Particularly at risk for a tear are athletes who have already suffered from Achilles tendon problems for some time.
Causes
The Achilles tendon is most commonly injured by sudden plantarflexion or dorsiflexion of the ankle, or by forced dorsiflexion of the ankle outside its normal range of motion. Other mechanisms by which the Achilles can be torn involve sudden direct trauma to the tendon, or sudden activation of the Achilles after atrophy from prolonged periods of inactivity. Some other common tears can occur from overuse while participating in intense sports. Twisting or jerking motions can also contribute to injury. Fluoroquinolone antibiotics, famously ciprofloxacin, are known to increase the risk of tendon rupture, particularly achilles.
Symptoms
Patients often describe a feeling of being kicked or hit with a baseball bat in the back of the heel during athletic activity. They are unable to continue the activity and have an extreme loss of strength with the inability to effectively walk. On physical examination there is often a defect that can be felt in the tendon just above the heel. A diagnosis of an Achilles tendon rupture is commonly made on physical exam. An MRI may be ordered to confirm the suspicion of a tear or to determine the extent of the tear.
Diagnosis
A detailed history, and examination by an appropriately qualified health professional, will allow a diagnosis to be made. An ultrasound or MRI scan can confirm the diagnosis. Other causes of symptoms in the area, such as those referred from the lumbar spine and local infection, should be excluded.
Non Surgical Treatment
The treatments of Achilles tendonitis include resting the painful Achilles tendon will allow the inflammation to subside and allow for healing. A period of rest after the onset of symptoms is important in controlling Achilles tendonitis. In patients who have more significant symptoms, a period of immobilization can help. Either a removable walking boot or a cast can allow the inflamed tendon to cool down quickly. A heel wedge can be inserted into the shoe to minimize the stress on the Achilles tendon. These can be placed in both athletic and work shoes. Applying ice to the area of inflammation can help stimulate blood flow to the area and relieve the pain associated with inflammation. Apply ice several times a day, including after exercise. The pain and swelling most commonly associated with Achilles tendonitis can be improved with non-steroidal, anti-inflammatory medications (NSAIDs) which include Celebrex?, Advil?, Motrin?, Naprosyn?. Be sure to consult your physician before starting any medications. Physical therapists can help formulate a stretching and rehabilitation program to improve flexibility of the Achilles tendon. Cortisone injections should not be used for Achilles tendonitis. Studies have shown an increased incidence of Achilles tendon rupture after cortisone injections.
Surgical Treatment
Debate remains regarding the best form of treatment for a ruptured Achilles tendon. The 2 options are:immobilisation or operation. A recent meta-analysis of scientific studies showed that compared to immobilisation, an operation reduces the risk of re-rupture and allows a quicker return to work. An operation is not without risk and these must be balanced against the benefit of a lower re-rupture rate. Both treatments involve immobilisation for 8 weeks.
Prevention
Here are some suggestions to help to prevent this injury. Corticosteroid medication such as prednisolone, should be used carefully and the dose should be reduced if possible. But note that there are many conditions where corticosteroid medication is important or lifesaving. Quinolone antibiotics should be used carefully in people aged over 60 or who are taking steroids.